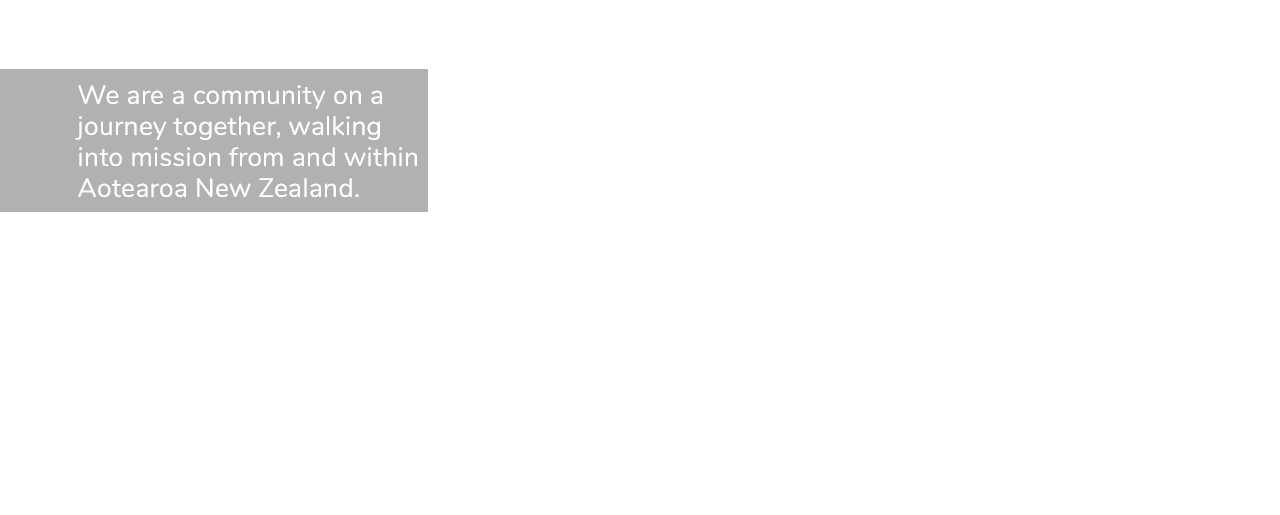 Missions Interlink New Zealand is the association of mission organisations and mission passionate people in Aotearoa New Zealand. In many ways Missions Interlink is an Iwi (wider tribe) with a membership of more than 100 organisations, churches and individuals representing approximately 1,500 workers in mission from and within Aotearoa New Zealand. We welcome all into membership who are actively involved in promoting the work of Christian mission from and within Aotearoa New Zealand. It is a collaborative community, so you get out of it what you put in, but membership does have its privileges and we list some of those below.
Belonging
Being part of a community that shares similar values creates a dynamic that cannot be easily quantified. You become connected to something much larger than yourself, your particular agency or your church. Of course, being part of the Body of Christ grafts you into a very large organism nationally and globally, but there is a special kind of affinity to be found among others living out their calling to participate in God's mission in particular ways.
Missions Interlink offers such a community. We understand each other's calling to mission, the challenges we all face in carrying it out, and the thrill to be found in seeing the Lord Jesus made known where He previously was not. By belonging to this community you are invited in to the latest conversations about mission from and within Aotearoa New Zealand as well as internationally. In these days of costly compliance requirements, confusing regulations, increasing costs and decreasing resources, it is comforting to know that you are not alone. There are great synergies to be found in walking this road together: on mission.
Benefits
Part of belonging to a larger community of like-minded people is that the membership can be used as leverage to obtain group discounts and deals that benefit the whole community. We have developed relationships with business partners that provide us with access to significant discounts off of their retails prices.
The CSC Buying Group is one of those relationships. CSC is the power behind our ManaakiCard, which provides point of sale discount codes for outlets like Office Max, Office Products Depot, Noel Leeming, Bunnings, Carters, Placemakers, Repco, Hertz, and FarNorthFuels (via Fuel Cards).
In addition, Missions Interlink has partnership agreements that provide our members with heavily discounted goods and services from Western Union (foreign exchange), NZ Mail (stamps, envelopes, overprinting), and Paint+ (match any type, colour, volume, delivered to your door. We are also negotiating insurance packages with a broker that will see premiums greatly reduced for members of our community who join up (members will be notified of this in due course).
Missions Interlink also works on behalf of our members with our lawyers (Gaze Burt) to seek legal opinion on matters affecting our community, such as healthy and safety in the workplace, tax implications of non-residency, tax implications of personal donations, understanding how superannuation policy affects missionaries, and much more.
If you have contacts willing to work with us to provide benefits to our community we would love to hear about it and explore the possibilities! Keep in touch.
On An Annual Subscription Basis
PER PERSON UNDER 65
$35 AGED OVER 65
$70 COUPLE
For missions supporters who do not otherwise belong to a member org.
1 Year Membership
Full Voting Rights
Potential Council Seat
1 ManaakiCard
Retail Discounts
MI Event Member Rates
Professional Advice
Cross-cultural Resources
Participation Priority
Website Directory Listing
Discounted MI Advertising
$100 BASE RATE +
$15 PER WORKER*
For all deploying and advocacy mission oriented organisations.
* "Workers" include
NZ staff & overseas field workers, whether paid or voluntary who work/serve more than 6 days per month.
The max. levy paid is for 60 workers.
1 Year Membership
Full Voting Rights
Potential Council Seat
Website Directory Listing
ManaakiCards per worker
Retail Discounts
MI Event Member Rates
Discounted MI Advertising
Professional Advice
Cross-cultural Resources
Participation Priority
$120 CHURCHES
$200 BIBLE COLLEGES
$500 COMMERCIAL
For other organisations that are not directly responsible for mission field work.
1 Year Membership
Full Voting Rights*
Potential Council Seat*
Website Directory Listing
4 ManaakiCards
Retail Discounts
MI Event Member Rates
Discounted MI Advertising

*

Professional Advice
Cross-cultural Resources
Participation Priority
* Except Commercial
Frequently Asked Questions
HOW LONG DOES MEMBERSHIP LAST?
Missions Interlink memberships last for one year.
WHEN WILL I BE BILLED?
The annual membership subscription fee is invoiced shortly after a successful application. Renewals are invoiced in July of each year.
WHAT FORMS OF PAYMENT DO YOU ACCEPT?
At the moment Missions Interlink is only able to accept payment via internet banking transfer or by cheque.
WHEN CAN I CANCEL MY SUBSCRIPTION?
You can cancel your subscription at any time by request to Missions Interlink (use our contact page).
DOES THE MANAAKICARD EXPIRE?
Yes. By requirement of our bulk discount supplier, the ManaakiCards expire in August every year and updated cards are distributed on receipt of your annual subscription fee for the year.
I HAVE OTHER QUESTIONS ABOUT MEMBERSHIP
We are happy to entertain any questions you might have concerning Missions Interlink membership or mission from and within Aotearoa New Zealand in general. Feel free to contact us – see our contact page.